The following is an excerpt from Nigel Heywood's reflections on the The Imam and the Pastor tour in New Zealand from 21 - 28 August 2019. Nigel travelled with Pastor Dr James Wuye and Imam Dr Muhammad Ashafa for seven days through Dunedin, Christchurch, Wellington and Auckland as they met and shared their stories with a wide range of audiences.
In the aftermath of the tragic events that happened in Christchurch on 15 March 2019, IofC New Zealand invited the duo, who starred in the documentary The Imam and the Pastor to come and share their experiences and initiate deeper conversations about how communities might continue to heal, connect and evolve. As they travelled around the country, they put forward a vision of secular and faith communities working side by side to address the deeper needs of the host culture for a moral foundation, whilst learning to reconcile and build trust and create a society where "there is no room for hate." The vision and experience of Imam Ashafa and Pastor James had an impact on all the audiences they shared their stories with; from grassroots right up to top leadership. They spoke directly to individuals who were grieving in the aftermath of 15 March; they shared their experience with Māori, Muslim and Christian leaders, the police, city councils, interfaith groups, university professors, students and the general public.
During the 1990's in Nigeria, these two deeply religious men led youth militias in violent combat against each other. Through the conflict, Imam Ashafa's spiritual mentor and two cousins were killed and Pastor James lost close friends and had his right hand cut off. Both men were consumed with hatred and wanted to destroy the other and their religious community. It was from this point of bitterness and trauma that they individually went through a powerful process of reconciliation. It took many courageous steps over three years but that transformation became the foundation of their 26 years of peace building within Nigeria and around the world.
As I travelled with them, I asked how they keep hope when they continually see so many violent conflicts arising. They responded by saying they always look at conflict as a chance to re-look at things. Every conflict is a chance for something new to evolve and develop.  What continually stood out for me about both men was their love and willingness to do something radically different to break the cycles of violence.
Answering questions on how to engage the secular side of New Zealand culture, the Imam and the Pastor presented two main responses; build trust and address the mutual needs of both faith-based and secular society...faith based communities need to move out of their comfort zones and traditional places of power and into the community. If the community is feeling isolated and moving towards extremes, then the religious groups can respond by beginning to build bridges through an emergent and inclusive vision that makes sense across all groups and meets the needs of identity, cultural freedom, and safety.
In countries like New Zealand and Australia, we pride ourselves on being multicultural. Our secularism allows us to coexist side by side without too much interaction, as long as everyone is peaceful and we all have jobs. This almost neutral exchange between groups is seen as "tolerance". Our everyday lack of engagement across diverse lines of belief, ethnic backgrounds, social classes, wealth, age, or anything that sets us apart from "the other", has left our communities vulnerable to the politics of division, fear-based media and the social isolation of groups and individuals, which all meld together to create fertile ground for loss of hope or extreme responses. Our neutral, disengaged "tolerance" has consequences that are dangerous, and 15 March played this out to a horrific and tragic conclusion.  The work of the Imam and the Pastor is not about making us all one homogenous religion or culture, instead it directs us to face the challenge of creating strength out of our diversity.
"The human heart produces what is planted in it - hatred or love. It is a garden. All troubles-natural disasters or man-made disasters-are solved by what happens in the human heart. Humanise yourself, humanise the other, move towards your enemy. Have a magnanimous heart that is free of corruption." Imam Ashafa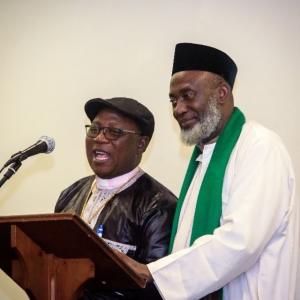 Story by Nigel Heywood, Australia.