The Spiritual Vision of Frank Buchman: A book by Philip Boobyer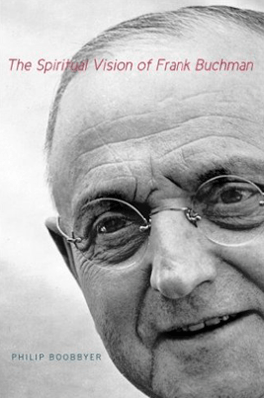 Philip Boobyer's book, 'The Spiritual Vision of Frank Buchman', explores the main ideas of Frank Buchman, who founded what was known as Moral Re-armament(MRA), and is now Initiatives of Change.
Buchman was born in 1878 and died in 1961. His life spanned the Great War, World War II and the post-war recovery period, and the movement he started surely drew some of its impetusfrom the foment of culture andpolitics in the Western world at the time.
As IofC Australia works through an organizational change process, I found this book to be a timely read. Published in 2013, it reviews the development of Buchman's ideas during his life, and gives many insights into the DNA of this movement.
The author, Philip Boobyer, is a Cambridge-trained historian who places Buchman's life and work in the context of the social and political events of the time, and highlights the ways in which Buchman differed from Christian orthodoxy – yet also, perhaps, extended it – through his practical approach to addressing individual and social problems.
Although Buchman's ideas were deeply rooted in Christian tradition, he embraced the possibility that God could work outside of church settings, and he did not encourage people of other religions to convert. As the movement that was MRA grew and developed, people were – and still are – encouraged to listen for the voice of the divine, in whatever shape or form we understand this, and to respond as we feel led.
The author acknowledges the existence of tensions and paradoxes in Buchman's vision, which led to some organizational dilemmas after the founder's death. Here's a quote, for example, from the concluding chapter, with reference to MRA: "A movement that was best understood through its stories and interpreted differently in different countries was not easy for outsiders to categorize. It could also make it hard for people within the movement to know just how far the message of MRA could be creatively adapted without losing its essential core."
Boobyer offers some responses to the conundrum. He suggests that MRA (and, by extension, IofC today) may be understood as a practice embodied in many scattered examples. It is a fellowship of committed individuals, who in some ways have resembled a traditional religious community. And – perhaps this was what made Buchman a late 20th century man, ahead of his time – it is an outlook that emphasizes the primacy of individual and personal responses to national and world problems. These ideas, embodied in IofC today, still offer an antidote to cynicism, and a chance for personal and spiritual renewal. – By Delia Paul